To live (again) Michel's start, click here (video)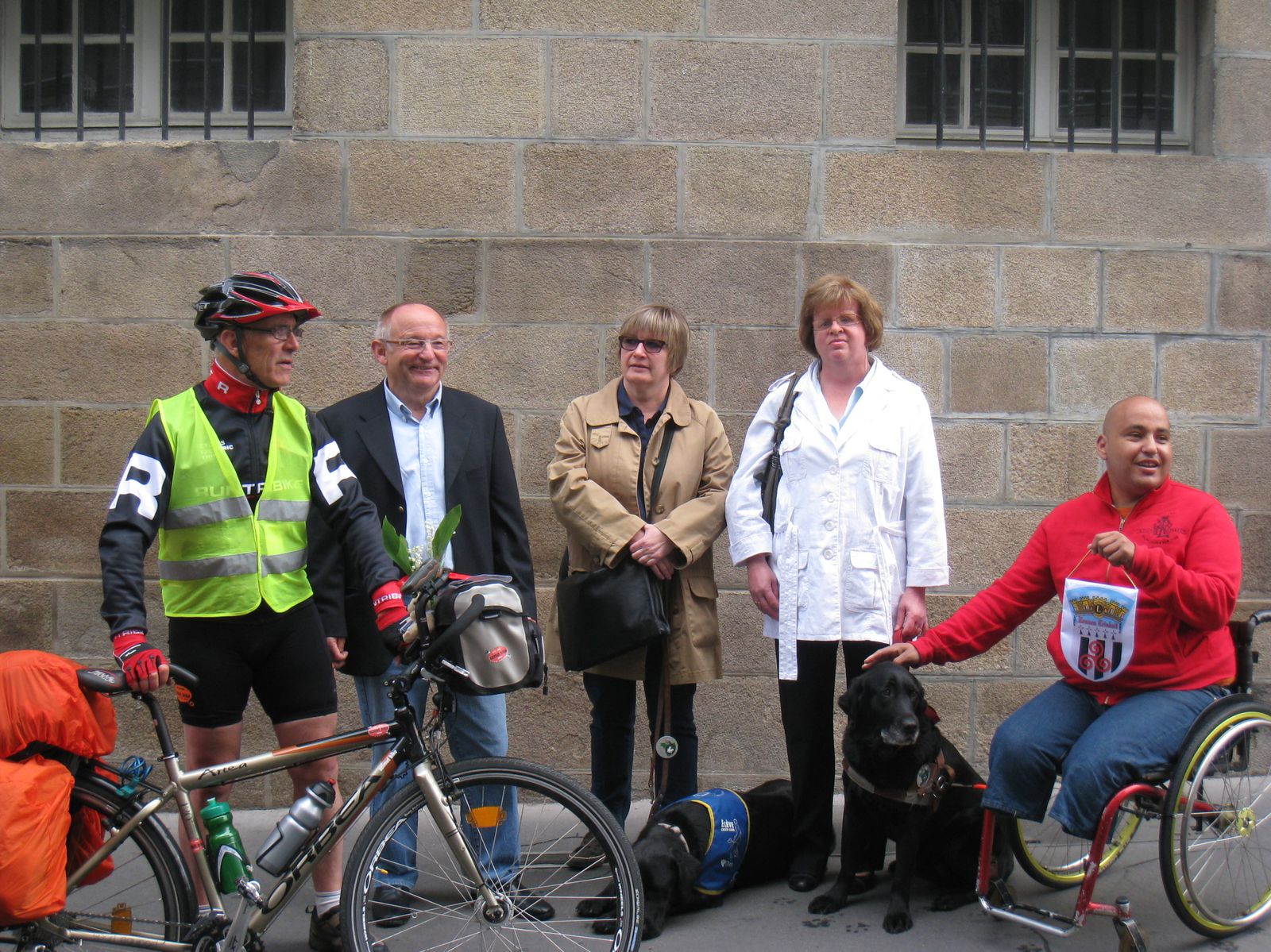 First week: 80 RPM, 9 hours a day – On the road to the Netherlands
"I left Nantes a week ago and I am getting closer to the Netherlands. The first two days were exhausting: the stress of starting, medias… Then, I found myself alone and it took time to find the right pace. Cycling across France is a bit of a nightmare. The worst moment so far: crossing the Normandy bridge. Imagine me on my bike, pulling my small trailer, struggling against cross wind, overtaken by cars and, even worse, huge trucks…
I spent the whole Sunday in Blankenberge, a town on the Flemish coast, which is served by a tramway line that goes from France to the Netherlands. This tramway, which is used by 12 million people every year, is part of the Belgian "sustainablemobility policy". Did you know that one third of the Belgian population regularly rides a bike, and that an official liaises between the Federal Government and cyclists?
I thought that everything was ready before I started the journey. But there is always a difference between theory and practice, and a lot of details to manage: finding the right road, planning your food stock, putting up your tent… At the end of the third day, I was 40 kilometres late. Now, I am 20 kilometres ahead. It is important to use just as little energy as necessary. 80 RPM (4800 RPH), 9 hours a day: finding the right pace is the main thing. I expect to be ready in a week, as well physically as mentally. To make things short, I am OK and happy. I know that you are supporting me, family, friends, partners and all of you, unknown supporters, who have helped me start this adventure.
Remember that this is not just a personal challenge, and do not forget blind/sight- impaired people who can gain independence with guide dogs."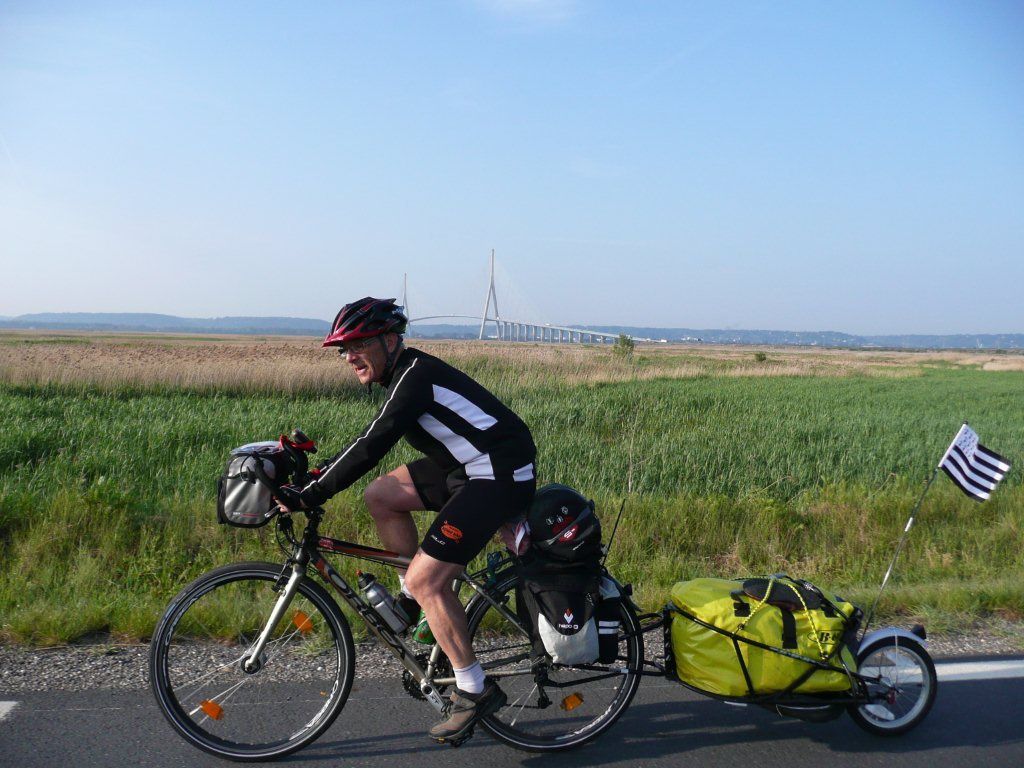 Second week: already 1,500 km! Fatigue has set in, but morale is running high!
" I am in Germany now. The wind has been favourable and I am now in advance. Fatigue has set in, which is not amazing: I have already traveled almost 1,500 kilometres and lost 5 kg. But do not worry: it could be worse, and morale is high! Actually, I am just managing my food and my timetable. I am also doing my best to listen my body. I have understood that I can pay a high price for the slightest mistake.
I have also begun to experience problems with my bike: three days ago, I broke a spoke. I could not do anything until the following day, for I had to wait for the opening of a bike shop, where I finally repaired my wheel. Today, bad luck, two other broken spokes: bloody potholes! Denmark is getting closer, I hope the roads will be in better condition up there.
As expected, I cycled past Norden, a seaside resort on the German North Sea coast, in the Land of Lower Saxony. A large ferry line links Norden and the East Frisian Islands. Norden also has a large fishing port and a seal sanctuary, breeding and research station.
I am getting closer to the Wadden Sea, which is inscribed on UNESCO's World Heritage List. It stretches from the Netherlands to Denmark along a total length of 450 km. This transition area between land and sea shelters a highly diverse flora and fauna."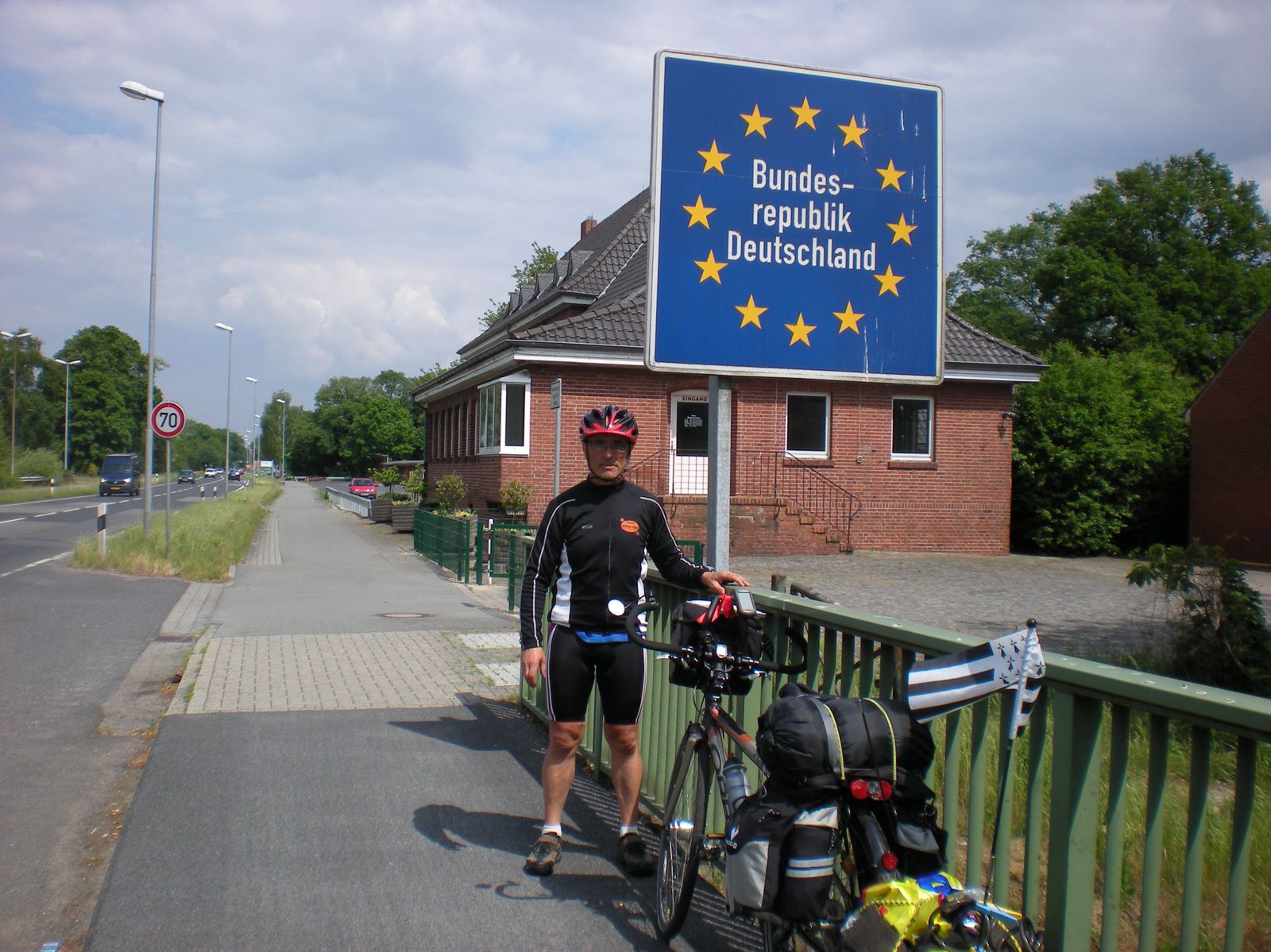 Third week: as expected, it's getting harder and harder, but I will not give up. I am in Denmark, two days ahead.
" I knew it would happen, I expected it. It's getting hard! After three weeks and 2,600 km, I am somewhat discouraged.
The thing is, I have had quite a lot of problems for a few days: mechanical failures, wind, rain and to top it all off, the beginnings of bronchitis. Wearing wet clothes, sleeping in damp conditions and, the following day, putting on hardly dry clothes did not help. Still I am pedaling forward, I am even two days ahead. Norrköping is just 100 km up north.
Fortunately, I met another "convict of the road" a week ago: he will pedal with me a few more days.
It took me two days to ride across Denmark. Then I took a ferry to Norway, where the real adventure began.
The landscape is really different. I have pedaled through vast open spaces, on endless straight lines, in seemingly unending forests. In Northern Europe, more than anywhere else, nature reminds us that nobody can do without it. And the more I head northwards, the more people look welcoming and… environmentally-friendly: pavements and roads are clean. They also have a different behaviour, they obey traffic laws and respect cyclists.
I would like to thank all my followers, especially pupils in Luigné (near Angers), Langon, Renac, Saint-Just and Pipriac (around Redon). Feel free to send me more and more messages of support. They hearten me for sure!"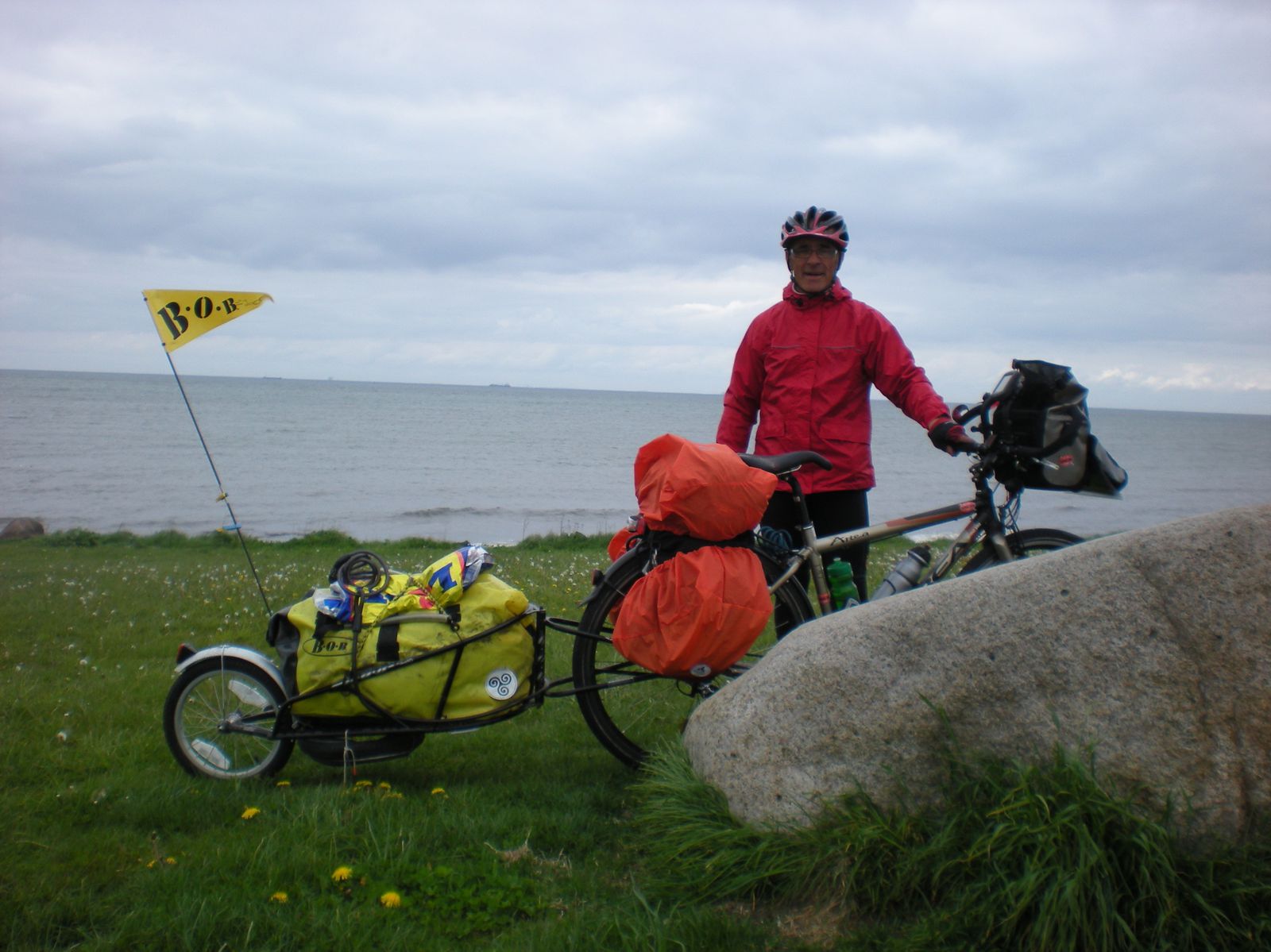 Fourth week: Stockholm ahead, and more than 3,000 km: morale is high again.
" Last week, I had difficult times. Rain, wind, mechanical failures, I really have not "been spared. Wednesday was the worst day. I had to pedal along a kind of express road. Nothing exceptional, but when one of your wheels is about to break at any time and lateral wind gusts reach 70 kph, it is not as easy as it may seem. Imagine what it takes to resist aspiration when trucks overtake your small and fragile bike! I wondered what I was doing in this mess.
But I quickly felt betteras I remembered what I was here for: guide dogs and Hacène's wheelchair.
As I mentioned above, this journey is physically challenging. Anyhow, things progressively have got better, and after suffering the blues, morale is high again. After 3,000 km, this is not amazing! I am raising my head again.
I bought a new wheel in Norrköping, and having some rest on Sunday did me good. Yesterday, Monday, when I saddled up again, I did not feel happy, I would be a liar if I said this. But at least, I did not step back.
I am heading for Stockholm, and I see amazing landscapes. Seeing flowering fruit trees, one and a half month after Brittany, reminds me that I am moving northwards. I pedal across a few grain-growing areas, with huge silos here and there, and endless forests too.
Every time I stopped, despite the language barrier, I met exceptionally welcoming inhabitants. It helped me make up for the lack of sunshine."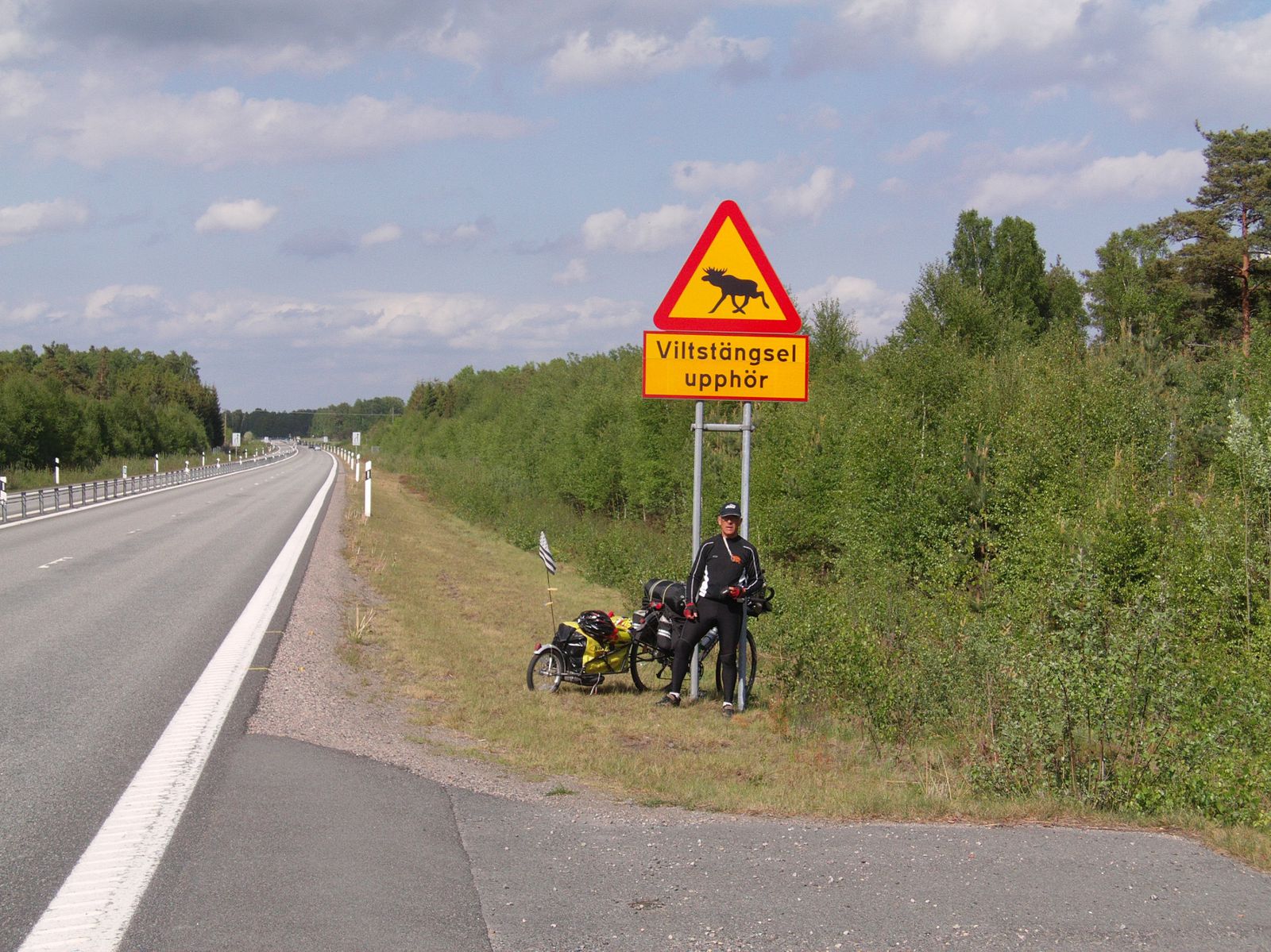 Fifth week: 10 more days, and I will be at the North Cape
" I have reached the three-quarters of my journey, and I am getting more and more excited. I had planned this too, but this time, it is quite nice. Even though I am really tired, my morale is up high. I do not talk about kilometers but about days. Ten more, and my journey is over.
I have pedaled across Sweden: 2,000 km, mostly in endless forests.
Now, I am in Finland. I have been in a region that looks like the French Massif Central for a few days. This region is certainly mountainous, but far less monotonous, and I have lost more than 8 kg. I eat fat food and I manage my efforts to make up for that.
Now that I am far east, I can live evenings without sunset. On the other hand, I can live beautiful but early sunrises. Swedes often wake up at 5:30 AM to watch this.
Their Americanization is amazing: I see a lot of pickup trucks, Harley Davidsons and old US cars from the 1960′s. Vast open spaces, hamburger restaurants and overweight people strengthen this impression: you are almost in the USA or in Canada.
People are still welcoming, but they look a little more distant than in the previous countries."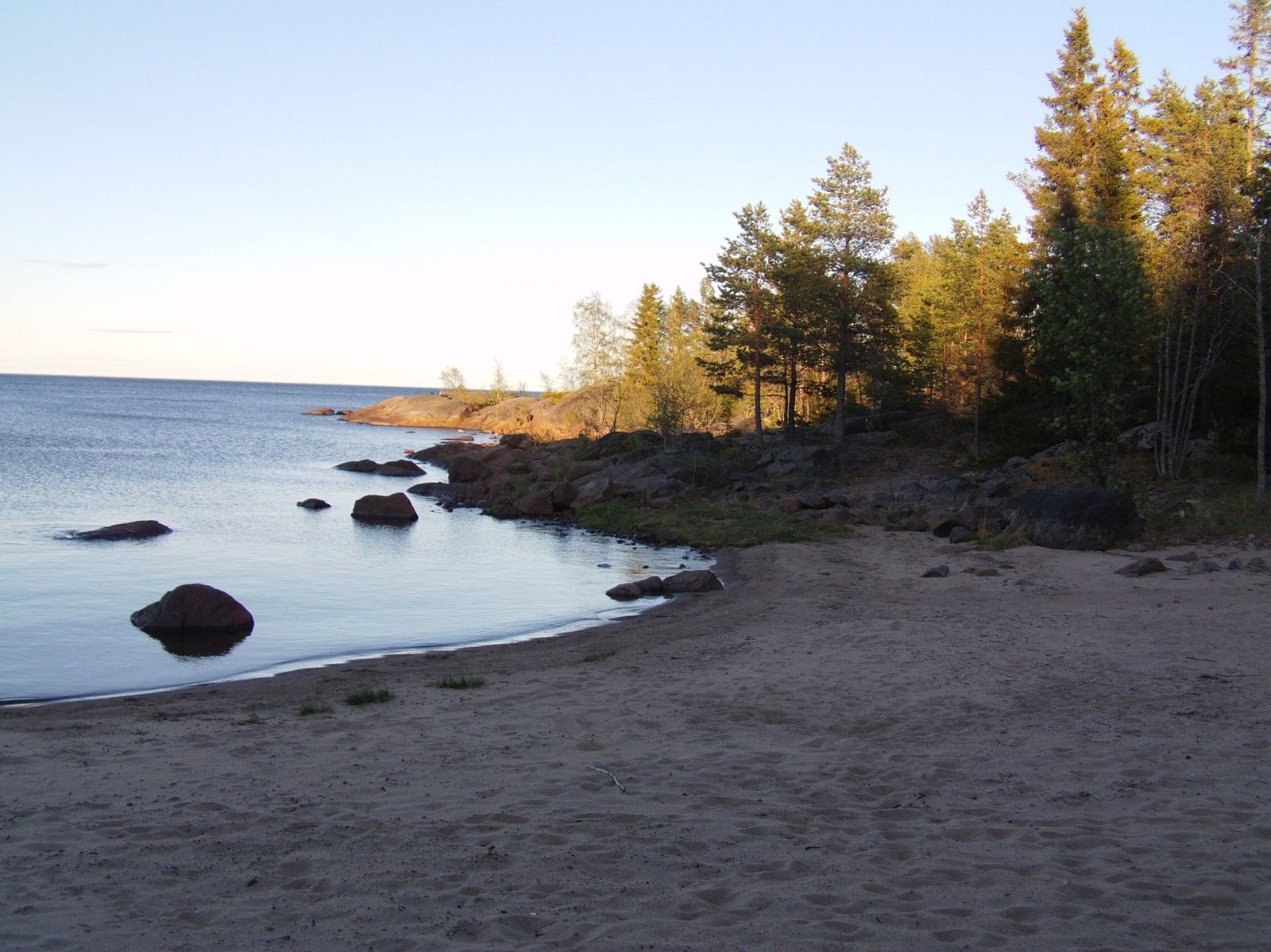 Sixth week: in the tundra, between fear and peace
" At the 4,500 km mark; only 400 left to the North Cape.
I have ridden past Kittila, just after Rovaniemi, 10 km from the Arctic Circle. One of the members of the band that won the 2006 Eurovision song festival was born there. But the capital town of Finnish Lapland is also famous thanks to another character: Santa Claus. This is the place where he lives and receives letters from all around the world. Finns are really different from Swedes: they have a strong identity and have hardly Americanized. I find it quite pleasant.
As I said, energy has come back just as I had planned, and my midway blues is far behind. In fact, I have to slow down. I feel like I am almost home. I climb slopes 10 kph faster than expected (25 kph instead of 15). Seeing that, a cycling partner asked me if I had a problem!
I do need to be careful, for real mountains are ahead, with 5 or 6 kilometer-long climbs. I need to make sure I have water and food, since I can ride 100 km in the wilderness. My only audience: hungry mosquitoes! Fortunately, I have found an efficient mosquito-repellent product.
Tundra has replaced birch and fir trees forests, and large bodies of water have also disappeared. This austere landscape began with shrubs, which were quickly replaced by mosses and lichens.
I have a strange sensation of fear and peace. Not the faintest noise but that of my bike. If I was a religious – which is not the case – I would say that someone around here thinks of me. Does it have to do with the adrenaline rush you often feel when you are close to the finish line, or is it just this captivating nature around me that keeps my head far form the handlebar? Anyway, I feel particularly serene, like almost never before, except in the desert, and I pay very little attention to tiredness… even though I am exhausted. "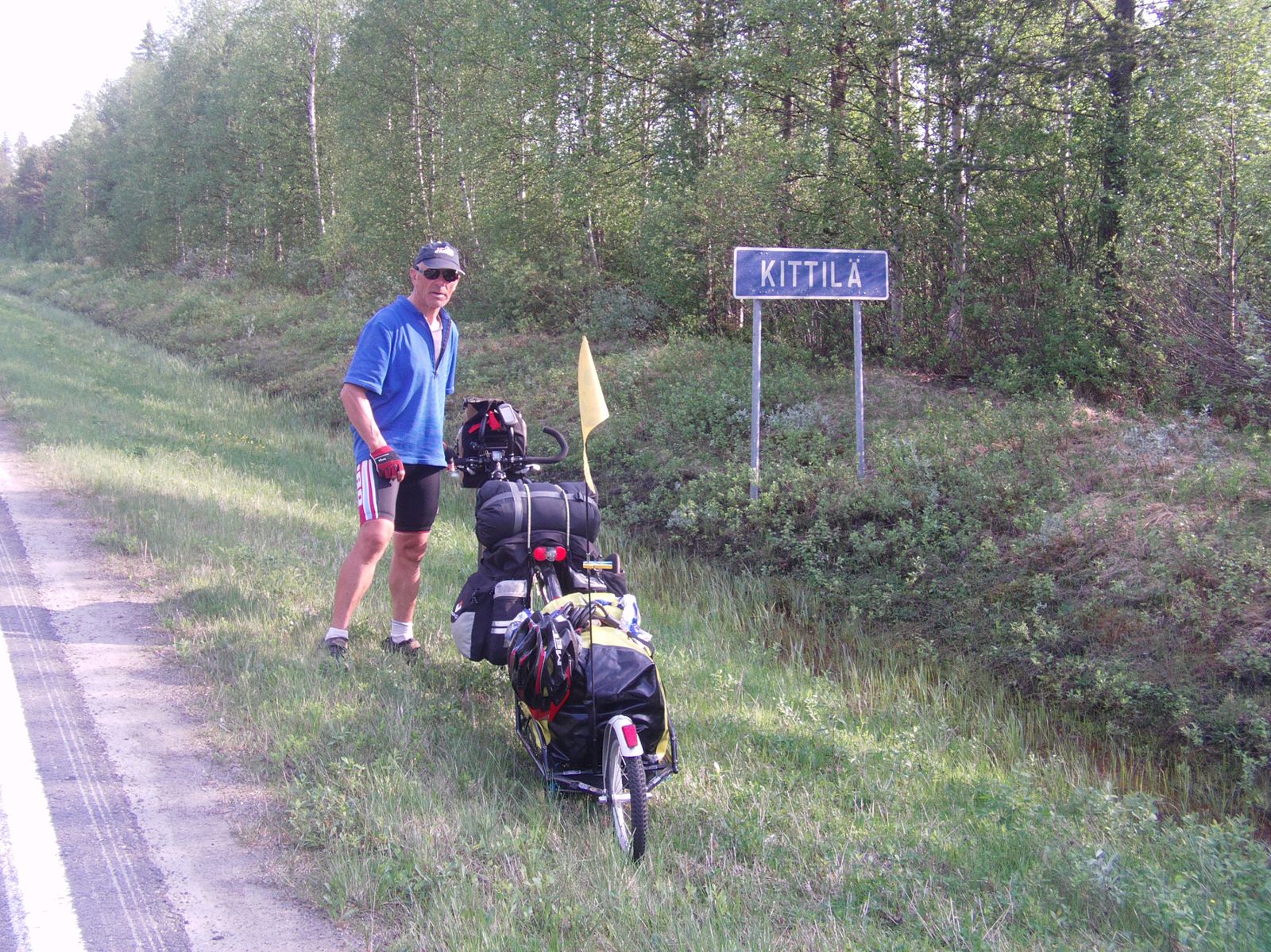 Seventh week: and now, 600 more km for Hacène.
" Here I am! I have reached the North Cape, after a 4,918-km long journey. It was an intense and moving moment. Since my last message, I have ridden past Enontekiö, Leppäjärvi, Kautokeino, Karasjok, Lakselv, Russenes, and finally reached Honningsväg.
Tundra landscapes are austere and monotonous. Lands, with more or fewer shrubs, are interspersed with bodies of water and torrents. I rode on my own, under an icy wind. Alternating climbs and descents, in complete silence, provide strange and sometimes dreadful sensations.
Just after Lakselv, I was on the seaside. It was very moving. One night, I was welcomed by Laplanders. A painter also put me up and offered me to have a shower.  The following day, I offered her to make up for it, but she refused. This solidarity was soul-stirring.
I rode through a 6 km-long, 200-meter deep tunnel to reach Honningsväg. Car noises and potential danger all around me made me feel hardly confident.
On June 15, I rode the last 15 km to Nordkapp, with fearsome climbs up to 11%… Then, I finally reached the North Cape, a 307-m (1,007-ft) high cliff, often referred to as the northernmost point of Europe. It was a magical moment: it was freezing cold, but the sky was deep blue.
Now, I have ridden past Honningsväg again, down to Tromso, in the south-west. These last 600 km are dedicated to Hacène, a double leg amputee. I hope that your donations will help him buy a new wheelchair. "
Eighth week: I have finally arrived in Tromso. A threefold victory: physical, psychological and human.
" One week earlier than expected, I have finally reached Tromso: my cycling computer displays almost 5,700 km. I have once more ridden through the 6km-long, 200-meter deep tunnel to reach Honningsväg. I would not do this every day! It did not just have to do with dangerous, surrounding cars: it was also a cold, wet and strange atmosphere that reminded me every second what was just above my head…
Luckily for me, I finished the journey under a cloudless sky with the wind at my back. I was sometimes in a fairytale landscape: the sea and the sky, that were equally deep blue, were merging. The snow, in the distance, strengthened this impression. Maybe my feelings were sharpened by euphoria. But there was something else: discovering this part of the world helped me understand how nature can be sensational when mankind does not consider it as a despicable source of financial profit.
Physically speaking, I feel like a young man. Really. I feel like a top athlete, and my morale is at its highest. Why? I am happy to have properly managed my physical and mental resources. I succeeded in finding the necessary extra strength I needed, particularly in the middle of the trip when, on top of fatigue, I experienced mechanical incidents. But beyond that, taking up such a challenge, for so great a cause, is extraordinary. Is this real life? Pushing your own limits, getting to the bottom of things, but always in a measured way. Going back to the basics too: meeting elementary needs, listening to yourself, not in a selfish attitude but to take the right actions and find the right balance. Just what you need to steer your ship properly.
Do not hesitate to take up your own challenges: walk, drive, ride a horse… or a bike! Prepare your trip thoroughly and go. You will live hard times, you may want to give up. But when you find the strength to overcome difficulties, you do live great moments.
I would like to thank all the people who have trusted me from the very beginning, and have followed me since then. Thank you to those, anonymous or not, who paid attention to my adventure.
And once more, feel free to help sight-impaired people gain independence thanks to guide dogs."
 Translated by "Les Traductions du Sillon"
Sorry:
- Please recheck your ID(s).
- If you are showing a private album, check that the "Retrieve Photos From" option is set to "User's Private Album" and that the Authorization Key is correct.